5.99

pop music is king in taiwan. the more commercial it is the more popular it seems to be. celine dion, 911, backstreet boys, coco,jacky cheung, andy lau, a-mei,...for the most part bands or singers that are manufactured are very popular here. there are some exceptions. wu bai and china blue who came out of the pub scene and are one of the most important indie bands.
and they actually play their own instruments and write
their own songs. wong faye wrote the music and some of the lyrics on her last album. and i think it is by far her most interesting release to date. zhang zhen yue is quite popular here as well and he writes and plays his own instruments too.
there are a bunch of other underground indie bands that often play little clubs here. bands like sugar plum fairy, sticky rice, ladybug, ltr, to name a few.

since i don't live near the clubs so i really don't get out to see them much. (i must be getting old). i did manage to see ladybug and sugar plum fairy open for seam when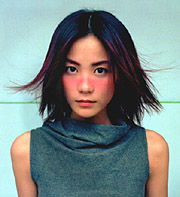 they came through town. the fact that someone like seam would play here at all seems strange but it was good to see a show again. funny how the people that would annoy me at a show in seattle (tall selfish men standing in front so no one else can see, people standing on my toes, insipid conversations during the opening bands and even during seam...) found there way at this show to annoy me here too.