THE AMERICAN TOUR
i originally wasn't going to write about my trip across the states because i'm from here and didn't think it would be that interesting. but some of my friends in taiwan asked me to(hi april! hi grace!) so here it is.

after leaving germany i flew to boston. one of the first things i noticed when i left europe was that the quality of service on the airline took a nosedive. and once i arrived in boston it got worse as my luggage didn't arrive with me! ugh. luckily it was delivered to the house a few days later.

anyways, in boston i stayed with my friend traci. i've known traci for years and years. we were pen friends years ago but now communicate more sporadically. traci lives in this great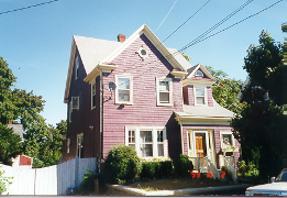 grape ape coloured house. i was only in boston for a weekend so we didn't do a whole lot. chatted about people we knew eons ago and did a little cd shopping. i was trying to control myself but i was bad again. i decided to ship some of my splurges home so i wasn't lugging all the evidence around about how bad i had been. :)

one day we went to visit some of traci's friends. kelly and brad, they run a photo studio where people can take classes. their house was really cool with funky furniture and wonderful art. they were super nice too. out of the blue they told me about a friend of theirs who had gone to taiwan to teach english after college. they said "maybe you know her". "her name is dexter" and then they described her. my mouth dropped open and i said "she trained me!". way too small of a world if you ask me! but then they told me about another friend who had lost his awful boston accent by teaching english in taiwan. but i didn't know him. still pretty strange. one last note on boston. traci wanted me to make note of the fact that we were both sick that weekend and hence she does not appear as the true diva that she is. :)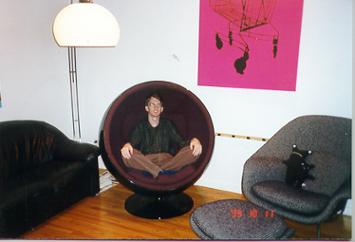 after my weekend in boston i took the train to nyc. i had gotten a cold in berlin, so my first couple of days in nyc i just rested. i was staying with my friend allen who i also know from being pen friends with first. allen has this amazing loft in tribecca. and he's one of my favourite people. though both of us have gotten pretty bad at writing letters, whenever we visit each other its like no time has passed. since allen had to work the first few days i was there he brought out a bunch of old movies i hadn't seen and said you have to watch these. and then he wanted me to rate them from 1-10. i'm pretty lousy at rating movies but i did it. it was fun to just rest and watch movies all day.:)


these are the movies i watched and my poor ratings. 10 being best and 1 being terrible.


legend of the golden vampires 10
wickerman 5
the innocents 9
man with the x-ray eyes 8.5
easy rider 10
chapppaqua 9
invaders 10
attack of the mushroom people 8.5
the haunting 10+
war of the gargantuans 7
the reflecting skin 9
time travelers 8.5
journey to the far side of the sun 10
cabinet of dr. caligari 10
day of the triffids 9
carnival of souls 8.5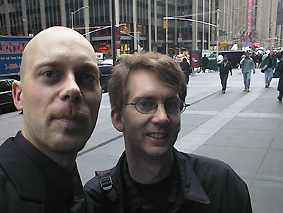 the first day i arrived i was supposed to meet up with my friend peter nacken who i know from the p5 mailing list. but the day we were supposed to meet i was not feeling well enough to really go out. and when i called him he was feeling the same way! so the next day we arranged to meet. but unfortunately he was so busy that day we only got to meet extremely briefly. a "hi! hey you're the guy i know from the list.." sort of thing. but still it was fun. somehow i hadn't expected him to be so tall. i had wanted to meet another friend from the list but we had some misscommunication and he thought i wouldn't be in nyc until later in the month. so that sucked. but hopefully i'll get to meet him next time i'm in nyc.:)

i had wanted to go to new jersey to see my friend lanore but was unable to this time. i did however, make it to conneticut to see my friend myndi for the day. i hadn't seen her in years and years either but we clicked as usual. and before i left nyc i managed to see my friend katy. just about everyone i saw in nyc i knew from being pen friends at one time or another. katy lives in brooklyn and we went out for italian food one day and excellent thai food another. at her place we talked about the music we love or hate and she told me about some of the evil things the nyc mayor has pulled and continues to pull..it was a nice visit but unfortunately i wasn't able to see katy as much as i would of liked to.

before i knew it, it was time to leave nyc. this time around i really just relaxed and saw friends. most of the time when i come to nyc i end up running around like insane. but this time was much more relaxing since i had seen most of the sights before i didn't feel like i had to this time. having a cold gave me an excuse just to lounge around as well.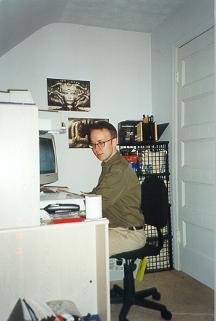 after nyc i flew to rochester,ny to see my brother. it was great to see him again. his roomates were a lot of fun even if they kept worrying that i thought they were really weird. hardly. and they nicknamed me mr. giggles which amused me.:)

my brother had to work during some of my visit but that was ok. i got to catch up on some bad tv. :) we had thought about driving to niagara falls and toronto but his car was making weird sounds and then its muffler decided to fall off so i guess its a good thing we didn't attempt it.

after rochester, i flew to minneapolis. in minneapolis i stayed with my friend mara. mara of course i know from being pen friends with(yes, its a trend). the last time i had seen her was when we were both in china. in minneapolis i did more damage in the cd department and just hung out. one night we (mara, j'avex and i) went to rent movies. well, we are all such nerds we can't just pick out a movie. we all picked movies and then mara put them behind her back and would say :"ok you pick left or right? and you top or bottom?" and that's how we picked the movies we rented. we ended up with a hk movie called "crippled masters" and a
blaxploitation flick called "dolemite". that night mara invited a lot of her friends over. most of us had spent time in asia. "crippled masters" was both funny and disturbing. i'm still not sure what to make of the man with no arms doing kung-fu with his stump. the other movie was what you would expect from this type of picture. this one guy had brought his girlfriend to watch the movies and she made them leave early. i think she was deeply horrified that we would even want to watch these sort of movies and that we found them funny was even more disturbing.

while in minneapolis i managed to spend an afternoon with my friend karin. and no i do not know her from being pen friends with her. karin was in my training group in taiwan. she was one of the first people i met when i met the rest of my training group in los angeles before we flew as a group to taiwan. it was fun to see her again and catch up on what had happened in our lives since she left taiwan.

after minneapolis i flew to albuquerque, new mexico. this was my first trip to the southwest excluding california. i went there to visit my friend garth. garth and i went to college together. garth has two housemates: paul and leslie. they own the house. i went to college with paul as well but hadn't seen him since college i think. i'd forgotten how fun and cool he is. all three of them made me feel right at home.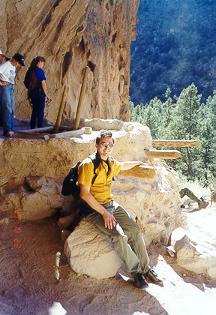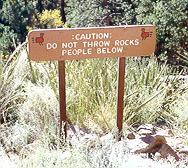 garth took some days off from work so he could play tour guide for me. after all of the city stuff i had been doing it was time to get back to nature some. so on my first full day we drove out to bandelier. on our way we drove through los alamos and santa fe. at bandelier we climbed ladders up into caves to check out the view and down into an adobe up in one cave. the rock formations were pretty interesting. reminded me of "land of the lost" but no dinosaurs to be seen. we also saw ruins from early native american dwellings. pretty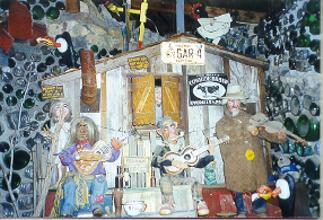 interesting. it was a nice sunny day and fun just to walk around. after hiking around the park for a good part of the day we headed back to the car. on the way we ran into a deer. so that was neat. then it was back to the house. on the drive home we drove through the jemez mountains and they were a fiery red.very nice.

the next day we drove up to san dia mountain. it wasn't very crowded so we could just walk around admiring the view and talking leisurely. a week or so before i had arrived it had snowed up here. so some of the paths were covered in snow. i was very happy to see snow since it is something i wasn't really able to see in taiwan. from up here you could also see albuquerque. on our way back home we stopped at this little curiousity called "tinker town". its a museum of sorts devoted to all kinds of weird memrobilia as well as little handmade miniatures depicting various scenes..bunker hill, freak shows, etc. it had a certain diy charm that is missing from the sterile environments of shopping malls and modern museums. under one of the booths it said "i did this while you were watching television". this was one of my favourite things we did in new mexico. i took a ton of pictures but most of them didn't come out very well.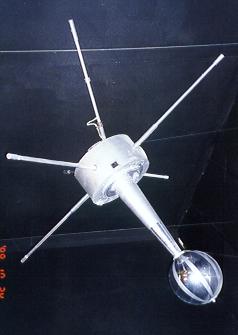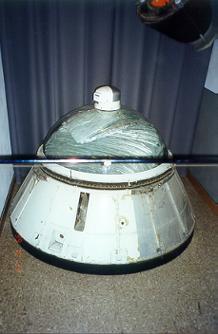 on another day we drove down to almagoro via carazozo to the international space museum. this was a lot of fun. there's a giant rocket standing outside the museum. and inside the museum you could see models of various space objects.,rockets, satelites, that sort of thing. there were exhibits about animals sent into space and a place where you could land the space shuttle on a simulator. the one thing i was very disappointed with was the grave of ham. ham was the first space chimp. and he is buried here outside the museum. but there is no picture of him, no statue of him, just a faded old plaque among the shrubbery.:( is this anyway to treat a great figure of history?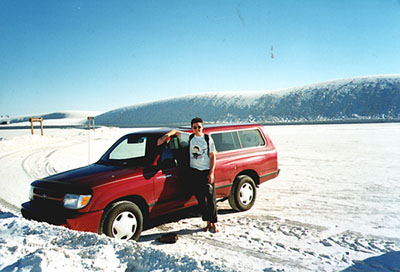 after the museum we got a bite to eat and then headed down to white sands. white sands is well, white sand dunes. they test missiles out there on some days. but not the day we went out. it is really amazing to see all these dunes. they look so much like snow that it would be easy to think it is if you just look at pictures...we saw people trying to sled or toboggan on the sand. if you come to new mexico i would put white sands on the top of your list.sort of strange and sort of wonderful at the same time.

on days we didn't go out to nature we just hung out and caught up on old times. we watched a few movies. "pathfinder" and "blackhole" on videotape. pathfinder was quite good. blackhole i had never seen all of. and my friends who had seen it were surprised at how bad and cheesy it was. of course that didn't stop us from making it enjoyable by adding our own comments to it.:) a few days later we went to see a matinee of this movie we knew was going to be bad called "bats". but we had to see it because paul studies bats. during certain part of the movie paul would say "i have one of those" referring to certain tools they were using. afterwards paul said "i didn't know they still put movies like that in theatres". meaning it was even worse than he expected.

i had a great time hanging out with garth again. when you don't see certain friends for a long time and they are not the best at communicating its easy to forget what great friends they really are. it felt really good just to hang out with garth and talk about old tv shows and play each other new music we had discovered. speaking of music, one of the last things we did was go cd shopping. garth took me to a good record shop called bow wow. i was impressed with their selection. i ended up buying this cd re-issue by attilio "art" mineo called man in space with sounds. this is music that was recorded in the late 50s for the 1962 world's fair. it is really excellent. when we got home and listened to it i was shocked at how great it really was. garth bought the soundtrack to a german sci-fi show called space patrol. which pre-dates star trek apparently and was never released in english. the pictures in the booklet are amazing. and the music is quite good too.

before i knew it it was time to leave new mexico. my next stop was seattle where my north american tour ended.

home